SecureCRT
สอบถามสินค้าและ Promotion : 085-556-5466, 084-463-4664, 081-841-9102 หรือ 088-153-3303 , LINE (24hr) : @birdseyeview
SecureCRT โปรแกรมป้องกันและปกป้องการรับส่งข้อมูล
เป็นโปรแกรมสำหรับปกป้อง Password, User Account และข้อมูล ด้วยการรวมเอาการจำลองเครื่อง Terminal ที่มีการเข้ารหัสกับ Option ในการแสดงตัวตน, และการรวมข้อมูลของโปรโตคอล Secure Shell (SSH) เข้าด้วยกัน
โปรแกรมนี้สามารถทำงานได้หลายวัตถุประสงค์ ทั้งวัตถุประสงค์ทางธุรกิจ, การจัดการเครือข่าย, การรักษาความปลอดภัยของข้อมูล และงานพัฒนา, การเข้าถึงโปรแกรมหลัก และการ Admin Server เพื่อให้สามารถเข้าถึง ทรัพยากรหลัง Firewall อย่างเช่น E-mail, File และเครื่องพิมพ์ได้อย่างปลอดภัย โปรแกรมนี้เค้ามี Interface แบบ Multi-Session Tab พร้อมด้วยคุณสมบัติในการจัดการ
สอบถามสินค้าและ Promotion พิเศษได้ที่ : 081-841-9102 หรือ 085-556-5466 | LINE (24hr) : @birdseyeview | suittiporn.s@birdseyeview.co.th, naritsara.t@birdseyeview.co.th
SecureCRT®
SecureCRT client for Windows, Mac, and Linux provides rock-solid terminal emulation for computing professionals, raising productivity with advanced session management and a host of ways to save time and streamline repetitive tasks. SecureCRT provides secure remote access, file transfer, and data tunneling for everyone in your organization.
Whether you are replacing Telnet or Terminal, or need a more capable secure remote access tool, SecureCRT is an application you can live in all day long. With the solid security of SSH, extensive session management, and advanced scripting, SecureCRT will help raise your productivity to the nth degree.
- Securely access business applications on UNIX, Linux, or VMS from machines running Windows, Linux, and Mac — employ the rich emulation support for VT100/102/220, TN3270, ANSI, SCO ANSI, Wyse 50/60, Xterm, and Linux console.
- Configure, manage, and organize all your sessions with full control over scrollback, key mappings, colors, fonts, and more — whether you have one or thousands of sessions.
- Access your full array of network devices from one client with SSH (SSH2, SSH1), Telnet, Telnet/TLS, serial, and other protocols.
- Leverage the high-productivity GUI with time-saving capabilities including multi-session launch, tabbed sessions, tab groups, tiled sessions, cloned sessions, a button barfor repeated commands, and mapped keys.
- Depend on the open standard Secure Shell (SSH) protocol for encrypted logon and session data, flexible authentication options, and optional FIPS 140-2 -approved ciphers.
- Automate repetitive tasks in SecureCRT by running scripts using VBScript, JScript, PerlScript, or Python. The script recorder builds your keystrokes into a VBScript or Python script.
- Transfer files between network devices with SFTP, Xmodem, Ymodem, Zmodem, or Kermit. A built-in TFTP server provides additional file transfer flexibility.
- Save steps with the close integration of SecureCRT and the SecureFX® file transfer client, which share sessions and settings that let you run SFTP, FTP, SCP, and FTP/TLS file transfer sessions without reentering passwords.
Improved button bar management
The Button Bar Manager allows you to add, duplicate, edit, delete, rename, and rearrange button bars. Admins who use a large number of buttons can use the Button Manager to rearrange, edit, add, delete, copy, and paste buttons.
Script status indicator
A script status indicator shows you when a script is running in tabbed and tiled sessions.
Command window
Configure the Command window to send commands to all sessions, the visible sessions, or the active session by default.
Multi-line paste dialog improvements
You can now review and edit the text in the multi-line paste confirmation dialog before it gets pasted into a session, reducing potential errors. The confirmation dialog can also be resized.
Save ad hoc sessions
You now have the ability to save individual sessions that were connected using Quick Connect, the Connect bar, or the command line.
Color Schemes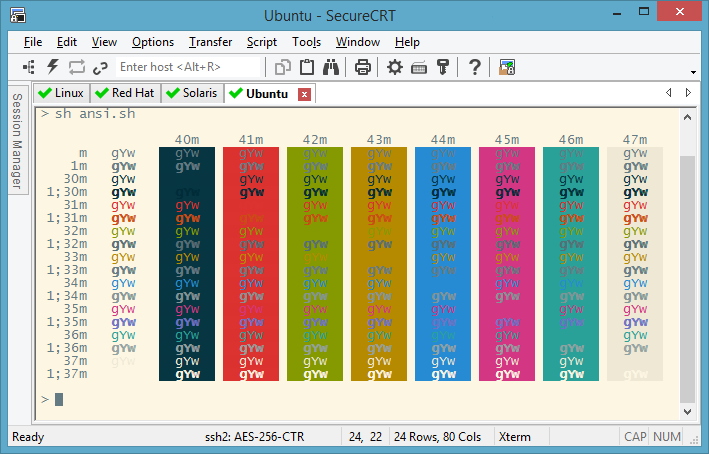 Pre-defined color schemes, including Solarized, make it easy to change the look of your terminal workspace. Choose from a variety of light and dark color combinations with coordinated background, foreground, and ANSI colors.
Tab Groups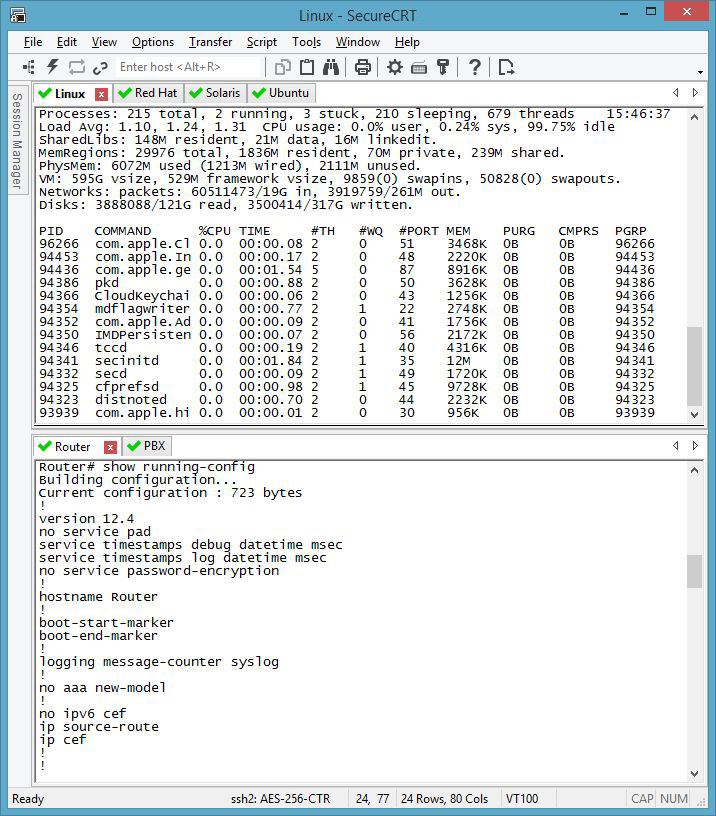 Tab groups allow you to compare the output of two sessions and group related sessions in the same SecureCRT window so that you can get more done in less time. You can organize sessions in tabs and switch easily between them. Or you can work in one tab while monitoring the output from a command in another tab and then go back to a single tab group when the command has finished.
Command Window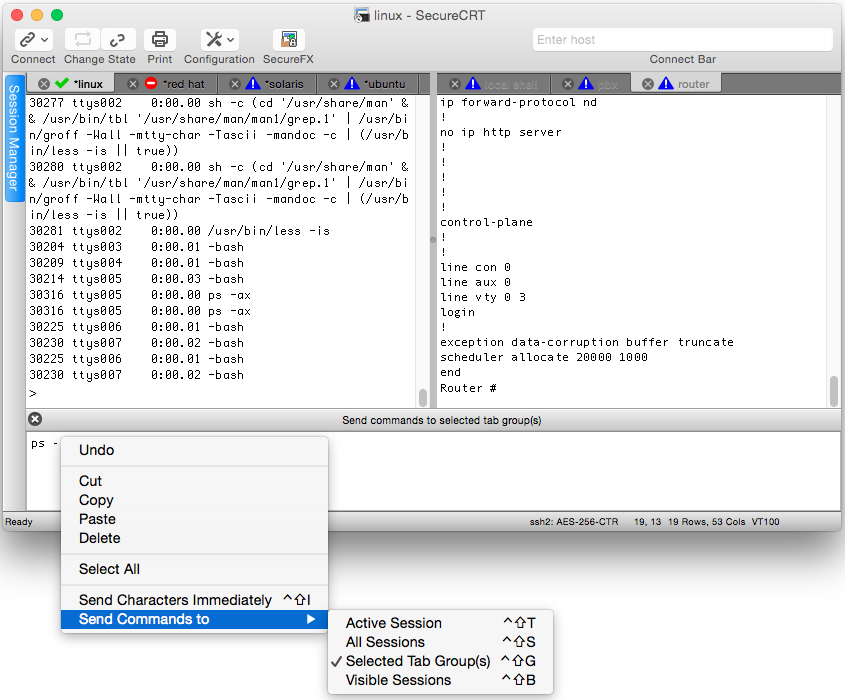 The Command window gives you a way to compose text before sending it to the remote system. Using the command history, you can view, edit, and send previous commands. "Send Characters Immediately" mode allows you to type control characters and escape sequences in the Command window so that you can edit files, stop running commands, and do tab completion. You can be even more productive by issuing commands to all connected sessions, all visible sessions, or specific tab groups.
สั่งซื้อ License SecureCRT
SecureCRT - Terminal emulator with SSH support.
ราคาจะคิดตาม range ของ License ตามจำนวนดังนี้
ราคาที่ 1 license
ราคาที่ 2-9 licenses
ราคาที่ 10-24 licenses
ราคาที่ 25-49 licenses
ราคาที่ 50-99 licenses
ราคาที่ 100 licenses ขึ้นไป
โดย MA สามารถเลือกได้ที่ 1 (standard) หรือ 3 ปี
**สั่งเลย! ของมีพร้อมส่งทุกรุ่น ทั่วประเทศไทย สอบถามข้อเสนอพิเศษกับทางทีมงาน โทร 081-841-9102 หรือ 085-556-5466 | LINE (24hr) : @birdseyeview **
ติดต่อสอบถาม



Birds Eye View Integration Co., Ltd.
(Head Office) 200/20 Sammakorn Village, Soi Ramkhamhaeng 110, Sapansung Sapansung Bangkok 10240 Thailand
TAX ID : 0105558183470

Business Operation Center Office
(Srinakarin 45) 9/56 Soi St. Charm Village, Pravet, Pravet Bangkok 10250 Thailand

Contact Our Team
SALES : Tel. : +6681 841 9102
Email : suittiporn.s@birdseyeview.co.th
SALES : Tel. : +6685 556 5466
Email : naritsara.t@birdseyeview.co.th
Support : Tel. : +6684 640 6979
Email : worrapon.c@birdseyeview.co.th
Contact Center : Tel. : +6698 841 1977
Email : admin@birdseyeview.co.th
LINE (24hrs) : @birdseyeview